"Coaching is fighting for the hearts and souls of men and getting them to believe in you." Congrats to my Pops on winning #700 last night!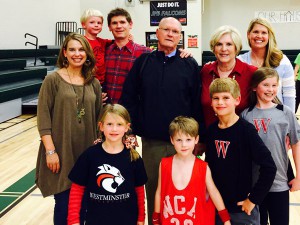 Coach Ronnie Stapler's full BIO:
COACH RONNIE STAPLER, ABA Founder in 2008

Coach Ronnie Stapler's Hall of Fame career spans the past 45 years and counting. His ability to breakdown every facet of the game and teach it to players at each stage of their career are a few of the reasons why he is so well respected by coaches at all levels of basketball.  Coach Stapler's energy is contagious!  His energy and skill as a teacher make him one of the most sought after coaches and speakers in the southeast.
 CAREER
HIGHLIGHTS
2 State Championships
2 State Runner Up finishes
5 Final Four appearances
3 Elite Eight appearances
11-Time Coach of the Year
3 – 6A Players (highest classification) of the Year
2 Alabama Mr. Basketball winners
700 wins and counting
77 players signed college scholarships at every level
SCHOOLS
Virgil I. Grissom High School
Guntersville High School
Randolph School
Westminster Christian Academy